Creating social media images can be a harder task than it may appear. Upon the clients requests, you load up Photoshop with the intention of creating a great image that they will love. You are then met with hundreds of different tools and settings, most of which you can't make head nor tail of. Unless you have experience using Photoshop or similar programs, then creating high-quality professional images for social media can be tricky. Paint just really isn't going to cut it.....
That is where Canva comes in. Canva is a fantastic browser-based tool for creating great images for social media with ease. It allows you to easily create your own graphics, as well as adding a range of different elements. It's simple drag and drop feature means you can start with a base image and add anything you like. From text to borders, stickers to other designs, Canva allows you to do it all.
Not only can you upload your own images, Canva also has a large stock photo inventory. Will a lot of them will cost you, there are still some great free ones available.
So if you've decided you want to use Canva to create some awesome looking social media images and wow your client, here is everything you need to know:
Benefits of Canva:
Pre-sized social media templates.
Designer type templates get your graphics started.
Lots of size and shape options.
Saves your images to be edited or downloaded later.
It's easy to make multiple, similar graphics from a template.
Step 1: Selecting Size and Shape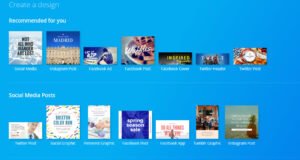 Canva has a range of pre-loaded templates for the optimal images sizes for all the main social media platforms, making it very easy to get the correct size. The templates include profile and header image sizes, adverts and standard timeline images. Of course, if you are after a specific size, you use custom shapes and dimensions to create the idel image size. As soon as you select the size and shape you want, it will fill your screen as a blank area. From there, you can start creating your design.