Google fluctuations can be an SEO's nightmare, with positions jumping up and down more than a Kangaroo. For many this is worrying because it may show weaknesses in your SEO strategy or even make you think that there may be something wrong with your website. This may not be the case (at least for most websites), in this blog post, we take a look at what these fluctuations are and how you can help counteract it, giving yourself a break from worrying about your position jumps.
What are Google Fluctuations?
Google fluctuations are when a website positioning's move up and down within the search engine rankings (SERPs). This is completely normal for search engines to do this as they are constantly updating algorithms, website statistics, relevancy factors and many more factors for each website. The question on everyone's mind would be, "but how do we solidify our positioning on page 1?". Well to understand that, we need to break down the typical fluctuation pattern.
The Typical Fluctuation Pattern
Our research has shown a typical pattern within the search engine rankings. This breaks down to;
The Top Tier (Pos 1-3): Typically, the top three websites remain untouched, with a few jumps here and there.
The Middle Tier (Pos 4-8): Our research has shown that these pages fluctuate quite dramatically on a day to day basis. Sometimes dropping out of page 1 on to page 2.
The Lower Tier (Pos 8-10): Our research has shown that in this section of the page, pages will jump up from page 2 of Google, to be almost featured on page 1 for a short amount of time.
Page 2 (Pos 11+): Be assured that this kind of pattern happens on the second and third pages as well.
Below is a screenshot from one of our research based target keyword. The keyword in question is quite competitive and also has a high competition rate for PPC, meaning that everyone is trying their hardest to be shown on page 1 for this particular keyword.
The image above is a graphical representation of a weeks' worth of keyword tracking. You will quite clearly see the typical fluctuation pattern as described above.
What should you do?
Because fluctuations can often be relentless, there are a few things you can do to make sure that you should stick with your current SEO strategy. If you are fluctuating on page 1, then you are most certainly doing something right. Below are some things you can do to make sure you rise in the rankings, or if you are unsure, you can read about Bravr's tried and tested SEO Strategies here.
Competitive Research Analysis
As we have established, the top tier is almost constantly in position 1 to 3. Why is that? Are these websites doing something that you are not? Don't be shy to have a look at your competitor websites and take notes and tips from them because they are in the top tier for a reason.
You may also find that well established, branded websites may dominate this section. This is because they have the ranking factors including; older domains, more/better links and a high click through rate which will have a long-term effect on the page in question.
Take a look at the competitor page link profile. What do their anchor text count look like and see how you compare to this, as this will show a benchmark for what is needed to push for these positions. Tools such as Moz or Ahrefs will showcase a score for how much authority these pages hold.
Change your Rank Schedule
If you are reading this article, you most likely have a tool which will scan the SERPs whenever you like, most likely on a daily basis. Because of the fluctuation timescale, it is not recommended to analyse your rankings on a day to day basis. Instead, review your rankings on a weekly or monthly basis because this will show your overall rise (or drop) in rankings over a period of time.
If you have been active with a link building strategy (or anything similar), be sure to take into account that Google may pick up on links and changes up to a month after they have been implemented. So, preparing your growth will be essential so you can take note (in a months' time) so you can see if your strategy has been effective.
Compare Fluctuations
If you are in the middle tier in the SERPs you will most likely receive a lot more fluctuations. Compare yourself with the other websites around you to see if you are in line with them. If you are, chances are you are still fine and the search engine is just moving things around a little bit. This will look something like this: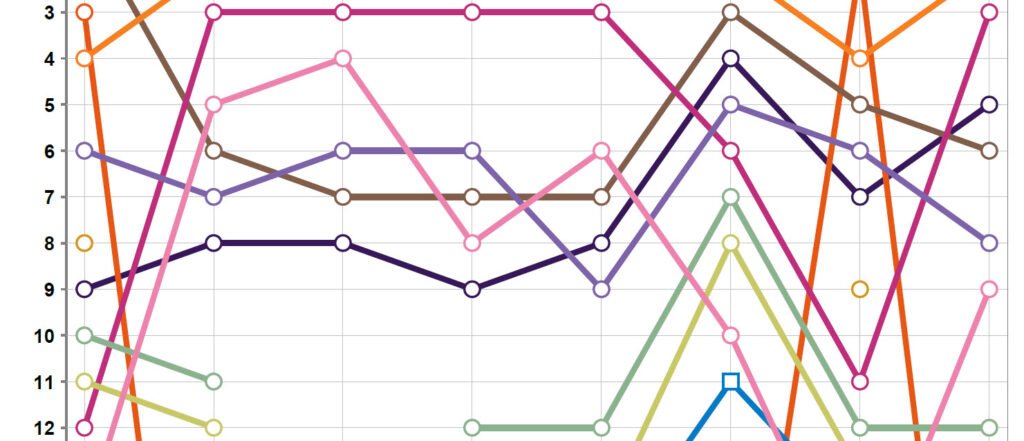 Notice how the majority of the websites end up in almost the same position as they started. They move within the SERPs in the same way, especially the brown and purple lines.
Check your Traffic
Ranking on page 1 for your target keyword typically means inbound organic traffic. This is great news for many website owners. However, if you are fluctuating between the mid-tier and lower tier of pages, this will reflect in your analytical data. Check to see where and when you are receiving organic traffic from Google and if this has a direct effect on your ranking. Not only will you be able to figure out where you need to be to obtain continued organic traffic, but you will also find out how well your strategy has been.
For further insights into the traffic data, turn to Google Webmaster Tools, which can provide you with click data, positional data as well as more traffic data. This could be handy for pin pointing the best positions.
Do Locational Searches
Different locations will showcase different results in the SERP's. Our research has found that local sites, especially for lead generation keywords will have placements in the mid-tier, causing additional fluctuation.
It is recommended that when you do your traffic analysis, to see which location the traffic is coming from. So, you can further understand where and when you are ranking on page 1. You can do this by changing your IP to different locations. Another factor of this will be your domain TLD and location setting within Google Webmaster Tool. Are you targeting your home country only? Or are you targeting the keyword on a global scale? These factors will have an effect on your overall ranking for your target keywords.
Check for Large Drops
If you are hitting your SEO strategy hard, you will hope to expect large rises within the SERP's. This is what every SEO expert hope for but we all know that this isn't always the case. Be sure to check your whole website rankings for large drops. Small drops such as 3 or 4 positional losses is perfectly normal with Googles fluctuation but anything more than 10 position drops is something of a concern. Review your recent optimisation tasks to see what you may have done wrong.
Don't Panic
Large drops will naturally be a worrying thing. If you are collecting data on a daily basis, wait for a few days to see if you climb back up. If you are monitoring data on a weekly or monthly basis, be sure to check out your most recent changes and act upon them. Your aim will always be to get as high as possible within the search engine rankings!
If You Are Still Unsure
If you are still a bit unsure on this and would like to reassure yourself or get some more help or advice, let us know. This kind of research is always on going and the variables will always change with the search engine algorithms. Our research has been carried out over several months of data which has been used across multiple clients to ensure they hold on to page 1 status.
To contact us, please visit our contact page.