Facebook has recently released its new version of the 'like' button, named Reactions. For many years, Facebook users wanted the option to express their opinions more without typing an essay to showcase that. Many users thought this could be easily achievable with a simple 'dislike' button to compliment the renowned 'like' button. So what is Facebook Reactions all about, and will it change the way we express ourselves on the popular social media website?
Facebook Reactions in a nut shell
Facebook reactions is an extension to the current 'like' button where the user is able to express their feeling for a post with a range of emotions and symbols.
Is this a new or old idea?
Facebook Reactions might feel like a new feature but it's actually been in development for quite some time. Last October, the new feature was tested across Spain, Ireland and Japan and was warmly welcomed. A new feature like this could easily be rejected by users as much as it can be successful. For this reason, Facebook owner Mark Zuckerberg was very cautious about the new feature, but decided to take the plunge.
Julie Zhuo, who is the Product Design Director at Facebook recalls:
"Mark gathered a bunch of people in a room and was like, 'hey we've been hearing this feedback from people for a really, really long time'"
So does this mean that Facebook is finally listening to its users? Probably not. As so many users have been expressing their desire for an enhanced 'like' button, it only makes sense for Facebook to oblige as they want to keep the social media platform interesting before users begin to get bored or become unsatisfied and eventually, leave.
What do these faces actually mean?
Emoji's have been popular for a very long time, and these days, there are hundreds. Even before these small images were created, people were using type to express their feelings (even to this day, I have the bad habit of using this 😀 to show that I'm happy). However, Facebook have chosen their emoji's wisely, by providing positive emoji's to help users express their feelings.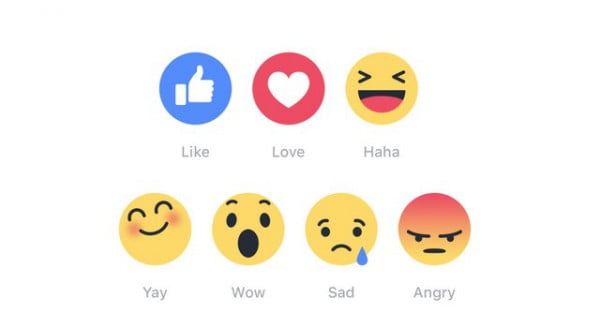 Thumbs Up/Like

 

– This is the classic 'like' button. Facebook were the first to use this feature in social media and have branded themselves around this. So it is not surprising to see this as the first option
Love Heart

 

– If you feel more strongly about a post and a 'like' just doesn't cut it, send some love instead
Haha

 

– Are you bored of constantly typing 'LOL'? This smiley lets people know that you definitely laughed out loud
Yay

 

– This is how we felt when Reactions was released. It expresses excitement and happiness all at the same time
Wow

 

– Have you ever seen a 360 degree video of the Grand Canyon which made your jaw drop? The wow emotion expresses that you are truly amazed by a particular piece of content
Sad

 

– From time to time, we see a post on Facebook that makes us feel a bit upset. This emotion is the perfect way to show that
Angry

 

– Much like a sad situation on Facebook, we also see things which makes us pretty angry. I'm sure keyboard warriors will love this to go with their angry rants!
If you're a long standing Facebook user, you will have seen petitions for a 'dislike' button. Facebook have ignored this request because they want to promote a positive environment for their users. This is probably for the best, as Reactions offers a wider range of emotions for users; if you find yourself disliking a post, you could always use the angry emotion.
How will this affect me?
For many users, you will see a few small images which indicates the most popular emotion for a single post. I don't think that this change will take anything away from Facebook, but it will give the chance for companies and people to see how well their content is doing. It will also give insights into how users feel about their content, instead of merely counting 'likes'. For this reason, we welcome the change to Facebook and look forward to see how well it performs across the world wide web.