The importance of click-through rates
A common question within the SEO industry is whether organic click-through rate (CTR) impacts rankings. This topic has been debated for years within the industry with a number of different studies being conducted. After numerous discussions in the Bravr office, and several cups of Nespresso coffee, we have come to the conclusion that CTR is one of many factors that impact search engine positioning. More importantly, if you are not actively auditing your CTR you will be missing out on traffic.
In this blog, we will discuss some of the common techniques and tips to analyse your organic click-through rates, and what you should be doing to increase CTR.
Combining high search positioning with high CTR
Achieving high search positioning on your target keywords is only half the struggle. Do you find yourself ranking for your target keywords, yet are not getting the amount of traffic you anticipated based on the search volume data highlighted in the Google Keyword Planner? Some of the major factors that will affect this are; PPC ads, rich snippets, localised search results, and CTR. The SEO team at Bravr have even found instances where clients are getting below extremely low click-through rates compared to the figures reported by the industry. The Google Organic CTR History Advanced Web Ranking is a great tool to see the industry averages.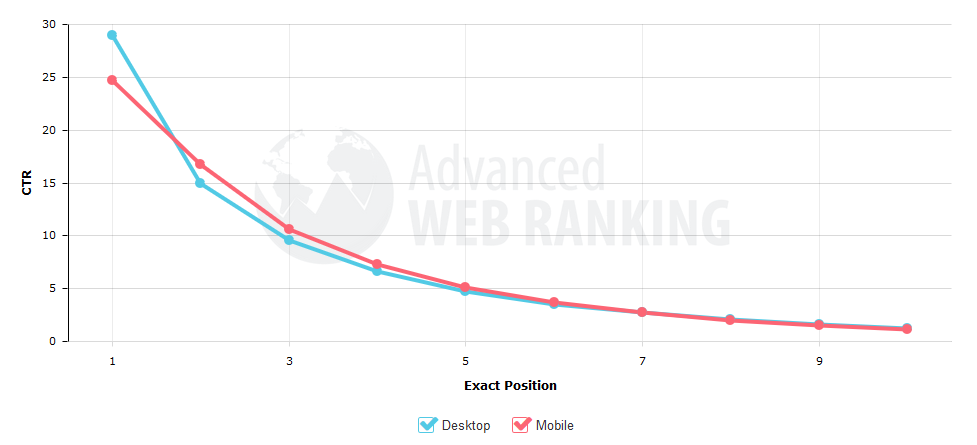 The chart shows the organic click-through rates for searches coming from a large sample of keywords and websites. You can also compare the CTR for searches coming from desktop devices versus mobile devices.
Bear in mind, click-through rates vary based on the industry the search is performed in, and the type of search query. What you should be doing is analysing your results regularly and testing new ways to improve CTR to ensure you are not missing out on traffic/conversions or face losing organic search positioning.
3 Steps to perform a CTR Audit
Step 1 – Log into your Google Search Console
If you haven't already, you really should set up a Google Search Console profile for your website. It is a free service that helps you monitor and maintain your site's presence in Google Search results (more info here).
Once you have successfully set up a profile, open the Search Console and navigate to the Search Analytics section. You can reach this section by selecting: Search Traffic > Search Analytics on the left hand navigation within the Search Console.
Here you will see data on your clicks, impressions, CTR and Position from the last 7, 28 or 90 days. Select the best timeframe to perform your research. You should base this on whether you have seen any noticeable differences in traffic or rankings. If traffic and rankings are stable, opt for a 90 day window to enable you to gather as much information as possible.
Step 2 – Filter the results
You can filter results by Queries, Pages, Countries, Devices, Search Type and Search Appearance. If your website is mostly targeted towards a single geographical location e.g. United Kingdom, select the location under 'Countries'. As for the remaining filter options, we have found there are two main ways we typically filter the results for further insights:
Queries: identifying top performing queries and analysing CTR at a query level
Pages: identifying top performing landing pages and analysing CTR at a page level
Filter by Query
Filtering by Queries is a great way to identify what keywords your website is receiving impressions and clicks for. Organise the results to show the keywords with the most impressions first and analyse your click-through rates of each query. The key is to highlight keywords where you are receiving impressions, have a relatively high positioning but low CTR to prioritise which keywords you optimise.
Filter by Pages
Filtering by Pages work well if you would like to analyse what keywords your pages are receiving impressions and clicks for. Once again organise the results to show the pages with the most impressions and analyse your click-through rates of each page. By clicking onto the landing page you'll be able to see which keywords the page has appeared for within the Google search listings. This allows you to establish all relevant search queries to optimise the page to enhance its positioning and drive additional traffic to the page.
Step 3 – Optimise and Test
Whether you filter by Queries or Landing Pages, the trick is to look for low CTR on queries and landing pages to find quick wins. Your next plan of action would be to optimise and test your HTML Titles and Meta Descriptions.
Most people start thinking about how they will incorporate their target keywords into the HTML titles and Meta descriptions. This of course is very important, however, you should also think about incorporating messages that will appeal to the user, enticing them to click through to your page. Think about adding your unique selling points, what people can expect if they were to click through to your page i.e. any special offers? All of these will add urgency, a reason for someone to pick you over the other search listings that are fighting for the same user.
Consider using these top 10 keywords that typically improve CTR:
How to
(List related numbers)
Free
You
Tips
Blog Post
Why
Best
Tricks
Great
Once you have updated your HTML Titles and Meta Descriptions, take a note of the date the changes were made and review the impact of the changes over the next period. As there is no one rule for all, you have to run a series of A/B experiments to find the best solution for you.
Summary
Regardless of whether you believe organic CTR is a ranking factor or not, continuously auditing your click-through rates will allow you to grow your traffic and potentially your customers. Organic CTR analysis and optimisation should be part of your SEO strategy.
The SEO team at Bravr understand the value of performing CTR audits to optimise our clients' organic presence. Our team of experts have years of experience improving both rankings and the click-through performance of these rankings for a variety of clients in multiple industries. If you would like to discuss your organic presence, or are looking for a thorough CTR audit, speak to one of the SEO Experts at Bravr today.