"As much as we love the challenge of working on large-scale multi-lingual, multi-regional PLC website builds. We equally enjoy taking a break to work on smaller builds."
bravr were approached by Scott from London and Kent Construction, who had a rather dated website. It was in the middle of being redesigned and he asked me to have a look at the new website in progress. To my horror it was being built in tables on an unknown content management system without any regard to SEO what so ever. The URL's had query strings and the SEO was a mess, not to mention the sites internal navigation was complex and confusing.
We advised against going live with the new site in progress and offered to build Scott a new site. Being in the bricks + mortar business literally, not our typical online business we understood that there wasn't a huge budget. So we focused on building a good quality website which was easy to use and SEO friendly.
Our team opted to use WordPress with a responsive theme. We wanted to provide them with a solution enabling London and Kent Construction to update the website themselves and continue to add content, photos and videos.  London and Kent's target audience are slightly older, not particularly internet savvy - so simplicity is key, and the new homepage achieves that brilliantly.
After four weeks the new website was launched and it can be seen on www.londonandkent.co.uk. There is a huge wealth of content and photos on the website covering all kinds of construction work: extensions, swimming pools, loft conversions etc.
It was a pleasure working on this project with Scott and his team. They are all now trained on how to use WordPress and fully embracing the web and power of WordPress.
We really enjoyed working on this project as Scott and his team are a great bunch of people and operate with honesty and integrity which is a rare trait in the world of construction. So if you live in the South East of London and want to deal with an honesty construction company get in touch with Scott at London and Kent. Oh, don't forget to mention we sent you his way 🙂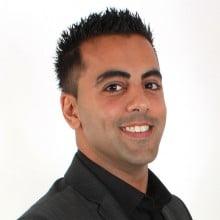 Shahin Fard
Founder of Bravr Ltd