The stats
Optimising for mobile is not an option, but a necessity. The 2013 Digital Future in Focus Series by Comscore revealed that the growth rate of mobile digital commerce has outpaced PC growth rates by a considerable amount. Even Amazon, which attracts the largest share of PC users than any other major site, experienced an 87% year-on-year growth in unique mobile visitors.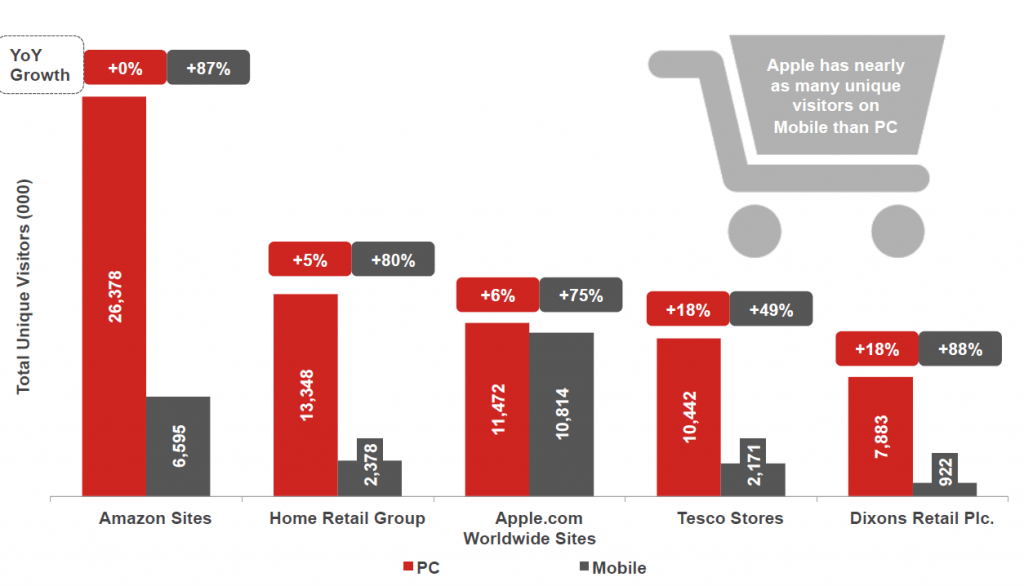 Crucially, this growing mobile audience isn't willing to compromise their user experience. Users expect to find information quickly and easily – especially when on the go. A recent study from the Google Mobile Ads team found that 61% of people said that they'd quickly move onto another site if they did not instantly find what they were looking for on a mobile site. On the other hand, 67% of users said that they are more likely to buy from a mobile-friendly site.
By not having a mobile-friendly site, you are indirectly helping your competitors. This is not just in terms of traffic, but also reputation. The Google Mobile Ads study also found that that 50% of people will use your website less often if it is not mobile-friendly, regardless of whether they previously liked the brand.
The research
With these aggressive growth trends, companies need to implement a multi-device plan - and the first step is research.
Analyse your audience's goals and behaviour to gain and understanding of how they interact with your website on different platforms.
Based on this analysis, you will then need to decide on which web development option is right for your business: a fully responsive website or a separate mobile subdomain.
A mobile subdomain is allows companies to offer a completely tailored experience for mobile users. However, mobile subdomain sites are not linked to the desktop site. This mean it won't automatically update when changes are made to the desktop version. In addition, subdomains don't pass much link value over to the main domain. The value of any inbound link to the mobile subdomain is lost on the main domain.
Responsive design is recommended by Google and allows for immediate, flexible content delivery, regardless the device. However, it is also more costly. While you avoid the SEO issues associated with mobile subdomains, responsive sites do not allow you can't target mobile-specific keywords as content can only be optimised once, across all devices.
The best option for your business will depend heavily on how users behave on your website which is why research is vital.
The pitfalls
It is not worth investing in a mobile optimised site if it still offers a bad user experience – the Google Mobile Adsteam found that 52% of users said a bad mobile experience made them less likely to engage with a company.
Here are some common mobile website pitfalls to avoid:
Reducing Content: A common mistake businesses make is to think that mobile means less content. Your website content should be tailored for each experience rather than being removed
Slow Page Load Speeds: Having a fantastic website doesn't matter if it takes ages to load. Econsultancy research found that 74% of users will abandon after waiting five seconds for a mobile site to load.
Non-Compatible Images and Videos: 75% of smartphone users watch videos on their phones. Ensuring mobile users have access to visual content quickly is vital.
Unnecessary Distractions: Annoying elements such as pop-ups irritate users and can create problems when they open in a new browser or cause the user to lose the original website altogether. They also increase bandwidth usage.
The tools
There are a range of tools available which can help optimise your website for mobile:
Usability:
Clicktale allows you to see how users experience your website across platforms, helping you eliminate hidden sources of customer struggle.
Crazyegg visualises user behaviour through advanced heat maps, scroll maps and click-tracking overlays so you can determine how mobile users behave.
Targeting:
BTBuckets allows you to target specific segments of your audience (including mobile) and produce custom content for those segments.
Personyze can be used for advanced targeting, producing tailored version of your website to each segment.
Testing:
Page Speed Insights to analyse and optimise your site for mobile performance
Optimizely offers A/B testing software so you can experiment with different ways of optimising your mobile presence.
Adobe Target provides a suite of tools for testing, optimising and segmenting content.
The Bravr approach
At Bravr, mobile is a priority and not an afterthought, which is why we ensure it is incorporated from the very beginning of our tried and tested development process. To discover how we can make your web presence mobile–friendly, contact us.