Twitter is the most prominent tool in digital marketing for sharing concise, engaging and inspiring content.  Whether you have a team dedicated to social media or currently lack social media presence, bravr discuss the top tips to getting your tweets shared and exposed to the masses. 
Here are the top five tips:
1. Keep it simple
140 Characters really isn't a lot, however many people misinterpret this as a minimum requirement for tweeting. Loading as much information into one tweet often isn't effective and can result in tweets that are convoluted, lacking a core hard-hitting message. For example, after a heavily social media orientated electoral campaign, Barack Obama scored the most retweeted tweet ever, using only 40 characters. Here's what the tweet looked like: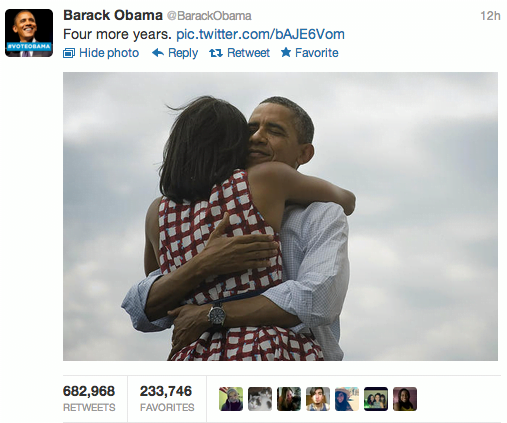 If you have a product launch coming up, how could you best summarise the essence of the launch in 40 characters? If it is possible, then it might be worth tweeting it. Less is more. Our social media team found that tweets with less than 100 characters received an 18% higher engagement rate than tweets with more characters.
2. Be original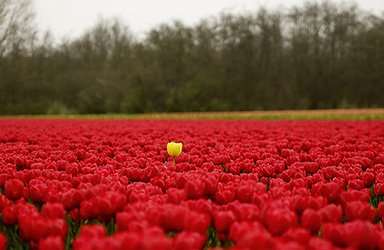 With 340 million tweets on twitter a day, it is crucial that the content you share is original and stands out from other tweets that are essentially repeating old news.  Exploring unique ways of communicating key news and events can be both entertaining and informational. For example, if there is a key event coming up, why not engage your audience by playing a guessing game based on the secret attendees and key speakers. Key talking points and interaction with your target audiences will incite more connections and retweets over content that is purely informational and strictly news orientated.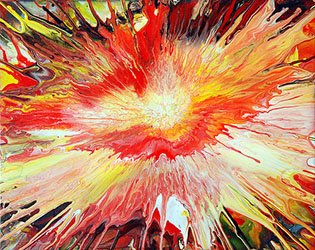 3. Be Visual
The growth of visually based social media platforms such as Pinterest and Instagram is prominent and is a strong indication to what it is attracting users to them. People are not just telling stories, they are showing stories. With this in mind, the bravr social media team analysed 200 tweets over a period of 4 weeks. They discovered that tweets with relevant visual content (video or image) were 4 times more likely to get retweeted compared to tweets without visual attachments.  Inevitably, there is always a way to communicate your message through an image as well as a tweet. Visual content increases your opportunity of getting a retweet, period.
4. Connect with the correct accounts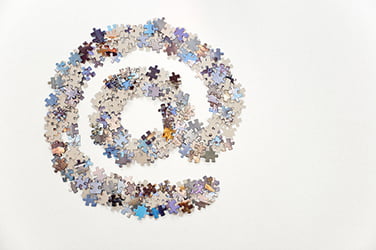 Ultimately, all information shared on twitter can be useful to at least one other similar account. Social media teams, as common practise, often analyse influencers to establish the relevant platforms to connect to and share information with. Confusingly, the most influential relevant twitter accounts may not be the most relevant for your social media campaign. There are a plethora of reasons for this; the accounts that you connect with may have a propensity to not share content, despite how relevant they are. Similarly, there retweeting activity may be poor despite their overall influence in your market. Not to worry, be selective who you connect with, ensuring that the accounts you choose tend to share content to an engaged audience. Be sure to do your market research for news accounts in your market sector. Doing social media for a new shoe launch? Search twitter for shoe enthusiasts and shoe news accounts, simple, yet effective.
5. Follow all relevant accounts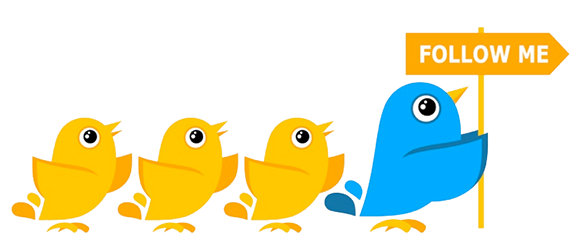 Unless you're are celebrity looking to have a following/follower ratio of 1 : 1,000,000, there are an ocean of benefits following all relevant accounts related to your social media campaign. Forget about the follower ratio and start following all news and related topic accounts that can benefit from the content that you are sharing via twitter. It is highly likely that by following accounts, the corresponding admins will then scan by your account and perhaps follow you back, leading to an opportunity of your content being retweeted. Be selective on the accounts that you do follow as too many may deter some users from following you. We recommend that you do an analysis of the tweets of the prospect accounts; if their tweets are relevant and they have an active audience then don't be afraid to click the "Follow" button!
We are sure that if you mix the aforementioned tips with your natural charm and creativity to your social media campaign, then you will see an improvement in your retweet rates. Fittingly, we have summarised this article in a 140 character tweet below:

We'd love to chat
If you want to discuss any details of this piece then don't keep quiet. Post on our Facebook page or give us a tweet @bravr. If you would like some strategic advice from our team then please contact us. We would love to hear from you and your team.